Two Brief Transport Documentaries, London, 1952
Apart from numerous interviews with individuals which Denzil conducted whilst in the UK in 1952 he also took the time to assemble some short radio documentaries.
In 1952, tape recording was still a new medium and the ability to edit magnetic tape with scissors and sticky tape must have been a liberating experience for sound recordists accustomed to the limitations of recording to disc.
Denzil had made his own disc recorder with the assistance of his engineer father in the late 1930s and was already an experienced "audio engineer" of the era. He was quick to adopt the new medium of tape recording, taking with him to the UK two Australian-made "Pyrox" 1/4 inch tape recorders. While in London, he purchased a then state-of-the-art portable tape recorder — the Boosey and Hawkes "Reporter". It used valve electronics, powered by dry cells, and a clockwork tape transport mechanism. Although primitive by modern standards, it worked sufficiently well that Denzil was able to use it to make numerous recordings during the remainder of their UK visit.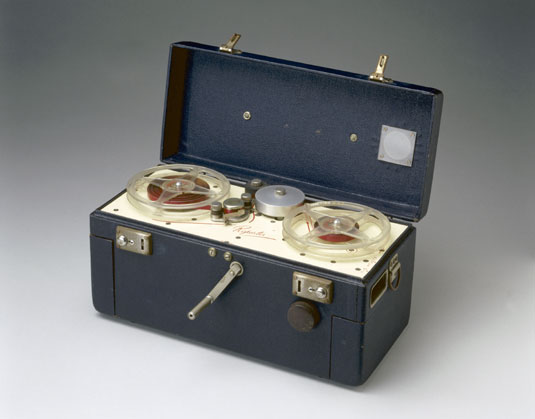 It's here that we return to these two short documentaries, neither of which would have been possible without the new portable tape recorder.
Indeed the first documentary, "A Tube Railway Journey", was somewhat of a demonstration of what could now be done with a truly portable, independently powered recording device. To that extent it may have been a novelty for radio audiences back in Australia.
Denzil takes the listener underground at Earl's Court station and boards the Tube for Piccadilly Circus. We hear the sound of the automatic ticket machine, the lifts which take the traveller down to the lower platform levels, followed by arrival at Piccadilly Circus, then the sound of the escalators which lead up to the Central Booking Hall at Piccadilly Circus. Denzil also interviews Mr Clark, the Station Master at Piccadilly Circus station.
With a little tape splicing back at their London home at 45 Nevern Square, Earl's Court, Denzil would have had a finished documentary, ready to dispatch by mail back to Australia for radio broadcast. You can listen to it here or download an mp3 file:
Listen Now: Click the play button on the audio player:
Download: Click here to download an mp3 (8.8mB).
The second documentary is "A Tour of the London Airport". Denzil interviews the Commandant of the Airport, Air Marshall Sir John D'Albiac, KBE, CB, DSO, recorded on Tuesday 9th September, 1952. We learn some interesting statistics about the airport: it covers an area of 2847 acres, and handles 150 flights per day. Denzil also recorded a variety of "background actuality". We visit the passenger lounge, we hear planes on the tarmac and we listen into air traffic controllers and radar operators guiding planes in to land. This material was edited together over two days, with commentary added, to create this 13 minute introduction to the London Airport for Australian radio audiences. Denzil played the recording to Sir John D'Albiac on 13th September and Dot noted in her diary that "Den said they were most impressed. Mr Housego spoke very highly of it and congratulated Den on his work".
Listen to it here or download an mp3 file:
Listen Now: Click the play button on the audio player:
Download: Click here to download an mp3 (15.7mB).