Interviews with Googie Withers and John McCallum, London, 1952
As an established actress in British films, Googie Withers would have been well known to Australian radio audiences when Denzil Howson interviewed her in 1952, together with her Australian actor husband, John McCallum.
On 20th October 1952, Denzil and Dot visited Googie Withers and John McCallum at their home in St John's Wood in London. Denzil noted in his diary: "We met also their young daughter, Joanna, and Muntz, a magnificent bull mastif. After an enjoyable afternoon tea and a chat, we recorded a three way interview."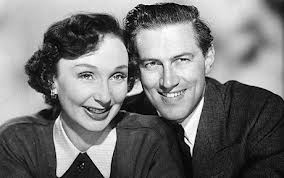 Googie Withers' obituary in The Guardian noted that "Withers was a loss to the British stage and screen when she followed her husband to his native Australia in the late 1950s."
John McCallum's father was a theatre owner and entrepreneur in Brisbane. His Wikipedia entry notes: "McCallum was exposed to acting at a young age: his early childhood was full of backstage encounters at the Cremorne Theatre with the wide variety of performers who frequented his father's theatre".
After his return to Australia, John McCallum enjoyed a successful career in theatre and television and was co-producer of the international TV series "Skippy the Bush Kangaroo" (1966–68).
John McCallum died in Sydney in 2010 and Googie Withers in 2011. ABC News online noted:
"Theatre producer John Frost says Withers and her late husband, the Australian actor John McCallum, epitomised glamour and prestige on the stage.

'She was an extraordinary person, and John and Googie together were probably the last of a breed of actor-manager and wife team to tour the world and work constantly', he said.

I think it's the end of a golden era with the two of them passing now, and in particular Googie."
But here you can listen to them young and vibrant and relaxed at their home in 1952:
Listen Now: Click the play button on the audio player:
Download: Click here to download an mp3 (9.7mB).
After restoring these interviews, I was able to contact their daughter, Joanna McCallum, herself a well-known actress in the UK. She wrote:
"What a wonderful surprise to hear those two interviews with my parents conducted by your father all those years ago. Thank you so much!

"As you know my mother died a year ago, just 17 months after my father, and before packing up and selling (first the family house and then the flat they had moved to) I spent many weeks/ months collating as much of their work related memorabilia as possible and gave it to the Archive department of The Victorian Arts Centre in Melbourne."
The second interview mentioned was on 18th September 1952 with John McCallum at Nettleford Studios at Walton on Thames where Sam Spiegel (producer) and Lewis Milestone (director) were filming "Melba", about the life of Dame Nellie Melba. John McCallum had the role of Melba's husband, Charles Armstrong.
You can listen to that interview here:
Listen Now: Click the play button on the audio player:
Download: Click here to download an mp3 (5mB).