Interview with 78yo British Actress, Ada Reeve, London 1952
Denzil and his wife Dot travelled to the UK and Europe in 1952, where Denzil recorded a series of interviews for broadcast on the ABC and on commercial radio, the latter under the title "An Argus Newsreader Abroad".
Denzil's diary entry for his interview of Ada Reeve in London on 25th June 1952 is brief:
"Home for lunch, then in the afternoon over to Ada Reeve. Spent a very enjoyable afternoon and obtained quite a good interview."
He doesn't say where the interview was conducted.
Miss Reeve would have been about 78 years old, but comes across as a lively and energetic lady. Here is a photo of her as a young lady: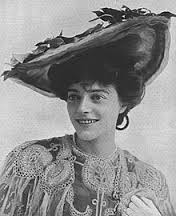 Her extensive entry on wikipedia begins:
Ada Reeve (3 March 1874 – 5 October 1966) was an English actress of both stage and film. Reeve began to perform in pantomime and music hall as a child. She gained fame in Edwardian musical comedies in the 1890s. Reeve found considerable success on tour in Australia, South Africa, America and other places in pantomime, variety and vaudeville in the new century. At the age of 70 she began a film career, which she pursued for over a dozen years.
In the interview, Miss Reeve talks about her fondness for Australia and sends a greeting to her two daughters living in Australia.
This interview sounds like it's been scripted, but who would have written the script and why? Denzil always recorded a tape identification before each interview and on this interview it has been included.
Listen to the interview here (or find it on the Sound Bites page):
Listen Now: Click the play button on the audio player:
Download: Click here to download an mp3 (6.5mB).
I made contact with Ada Reeve's great-grandson, Chris, who lives in Sydney. He commented:
"Its pretty amazing to think that Ada died 25 years before the Internet was invented and now there is a heap of material about her to be found there … your audio clip being the most interesting because it reveals her personality.
"I always wondered why Ada got to be so famous because her singing was pretty dam average and she was not extraordinarily beautiful even when young. I now understand her popularity in vaudeville and on stage which was about the impact of her presence on her audience  ... and this aspect is revealed in the wonderful interview your Dad recorded. Clearly she could be even at 78 totally engaging.
"Hearing Ada send a message to my mother Yuki so many years after great grandmother grandmother and mother have all passed away was a real thrill for me so again many thanks for contacting me."
There's also an interesting film on youtube (http://www.youtube.com/watch?v=tYO37aH66Bk) of Ada Reeve performing a song, made by Efftee Films in Melbourne in 1932.
Technical Notes
This interview was transferred from a reel-to-reel tape recorded over 60 years ago and since stored in all manner of places, hot and cold. When I started working on it, it was poorly wound and had numerous splices made with red sticky tape in 1952. The sticky tape had lost its "stick" and the splices would come apart during playing or fast winding. These were repaired with new splicing tape and the tape was re-wound tightly on a Rola 77 tape recorder. The interview was then digitised using a Revox B77 with azimuth and speed adjusted for this tape. Eq was done in iZotope RX and level balancing was added in Soundtrack Pro.