Barossa — The Musical That Almost Was
For Australian artists, musicians, actors and writers in the immediate post-war era, opportunities for career advancement in Australia were seen as limited. Thus it was that many sought greener fields overseas. For those of European descent, this meant the creative Mecca of London, vibrant home of great culture and tradition in theatre, music and film.
So it was that on 16th September 1952 Denzil Howson interviewed for Australian radio three young Australians with high hopes of making it big in the West End with a stage musical about Australia. The musical was called "Barossa" and the three Australians were Norman Woollard, Les Patching and Frank Wilson.
Who were these three young entrepreneurs?
Denzil credits Norman Woollard as being the writer of the story for the musical. Initially I could find no mention of Mr Woollard online, but in March 2022 Frank Van Stratten, former director of the Melbourne Performing Arts Museum, informed me that Norman Woollard was a busy and respected Melbourne-based actor and director, with many mentions of his work via the National Library's vast Trove database.
Frank Van Stratten referred me to an illustrated article about Barossa on Trove:
https://trove.nla.gov.au/newspaper/article/41254247
The article is from The Australian Womens Weekly of January 14, 1953, roughly four months after Denzil's interview. Here is a photo from that article of the trio in London at the time.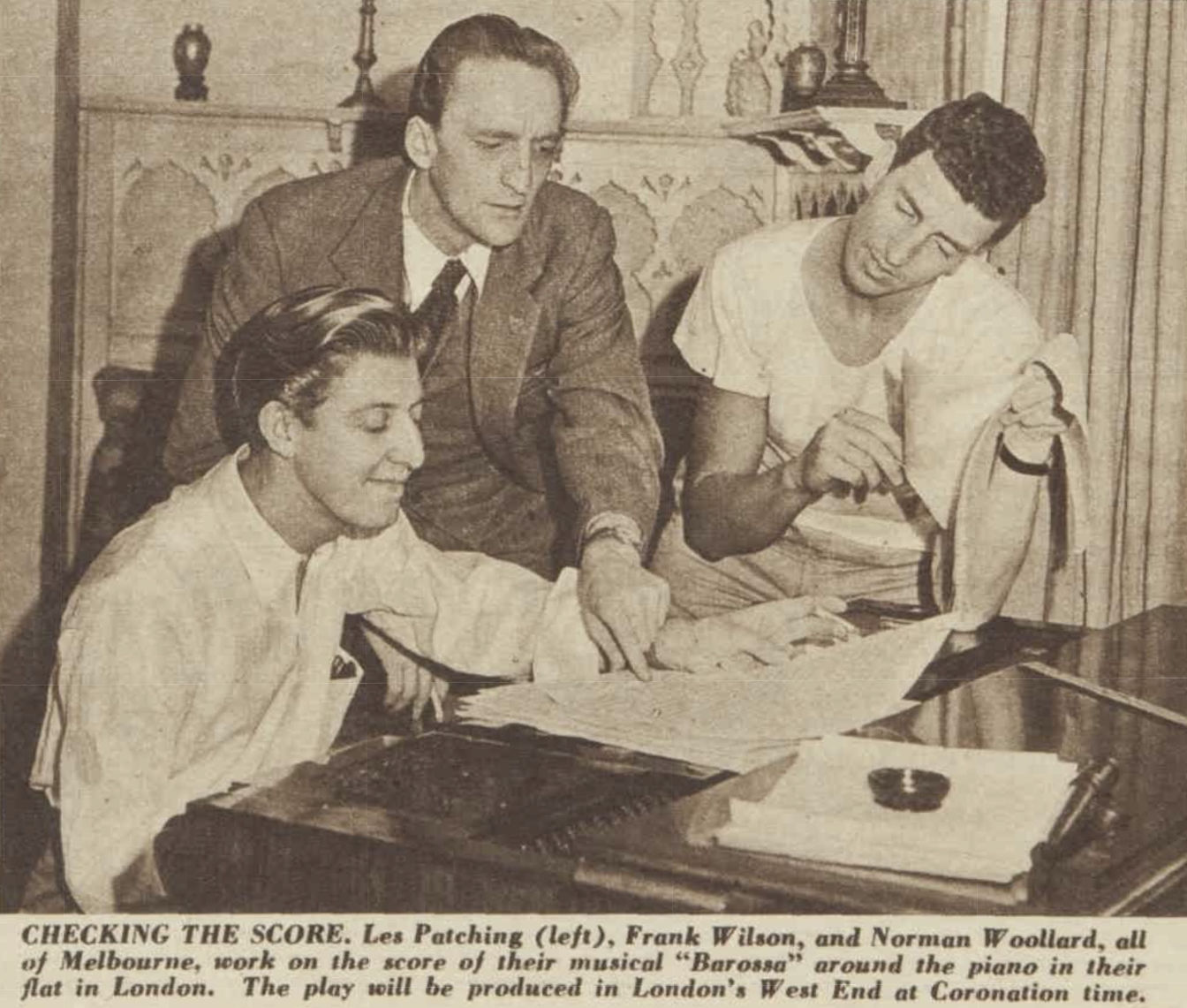 Les Patching was the musical composer in the enterprise. From an article on the ABC website we learn that:
"Les Patching was the first full time composer employed on Australian TV. He was also the featured pianist with the Palais de Danse in Melbourne and held down a residency at the famous Stork Club in London. Around 1963 he was joined by bassist Ivan Videky and drummer Len Barnard for a season at The Cockpit, located at Essendon Airport in Melbourne. The LP they released to mark the gig contains a sophisticated mix of jazz standards, evergreen ballads and sing-alongs that must surely have kept their audiences swinging."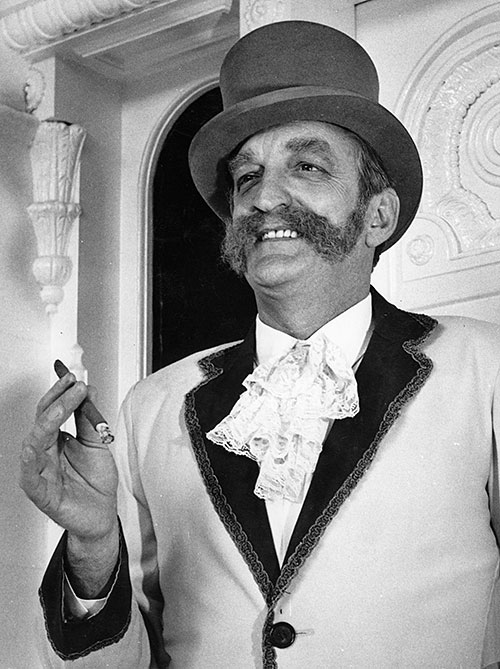 Frank Wilson is the most well-known of the threesome, having had a successful career as a film, stage and television actor, musical comedy singer and director, and television game show and variety host. Frank Wilson appeared in numerous Australian films and television series.
His professional profile mentions that he appeared in "the 1957 British comedy film 'A King in New York' directed by and starring Charlie Chaplin", so he was still working in the UK at that time.
When Frank returned to Australia, Denzil Howson offered him leading roles in the final two Tarax Show Christmas Pantomimes, "The Golden Princess" (1962) and "Marianne" (1963). Denzil and Frank also collaborated ten years later as co-producers of "Rafferty" a proposed television series set around the historical Murray River paddle steamer trade. A pilot episode was made (with Frank in the role of the scheming mayor of the riverboat town) but the series was never taken up by any television network.
Back to the interview at hand… Accompanied by one of the show's tunes played on the piano by Les Patching, we find the three collaborators busy at work putting the final touches on their new musical "Barossa". Norman Woollard explains the rationale for the musical:
"We found that although people in England didn't know very much about Australia, they had a great desire to, and because they were drinking Australian wines here we thought it might be a good idea to show them what it was like."

The creative trio had high hopes for the success of their efforts. Frank Wilson reflects this optimism with these words:
"I can't give you any exact facts but I can pretty safely say that it will be seen here in London in the West End … before the Coronation."
Youthful enthusiasm and naïvety perhaps, because no record can be found online that "Barossa" was ever performed in the West End, before or after the Coronation which occurred on 2nd June 1953. With no immediate possibility of a stage debut at hand, the three creatives were perhaps forced to go their own ways to focus on making ends meet. What finally happened to "Barossa", its music, songs and storyline, is unclear.
I had some correspondence with Amanda Wilson (one of Frank's daughters) in December 2018 and she provided some further information:
"I think Barossa faded away. Certainly there was no mention of a Norman Woollard. However, Les Patching and Frank did write another musical called Bushtown, which was only ever performed by an amateur theatrical group. This happened when I was living overseas, so I never saw it, but Shauna was in it as a kid, and it wasn't bad, but by then that kind of musical was old fashioned."

"We think it might have been an attempt to create a new story which used the songs Les and Frank had written for Barossa, thus dispensing with Norman's contribution. But I don't know."
So maybe that answers the question of what happened to Barossa.
But for now, enjoy this journey back over sixty years to those heady post-war years when Woollard, Patching and Wilson were about to take London's theatre scene by storm.
Listen Now: Click the play button on the audio player:
Download: Click here to download an mp3 (5.9mB).
Technical Notes
This interview was digitised from the original 1/4 inch reel-to-reel tape, using a Revox B77 with azimuth and speed adjusted for this tape. Izotope RX was used to remove hum, clean up unwanted artefacts and add some equalisation. Gain adjustments, trimming and export to aiff format was done in Logic Pro X. Mp3 format created in Fission. Ogg format created in Amadeus Pro.