Dr John Grierson, Who Invented the Term "Documentary" Film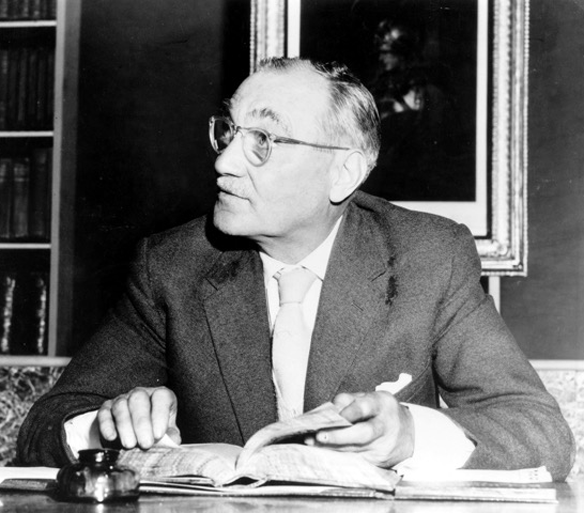 Filmmaker Dr John Grierson is sufficiently notable to have the Grierson Trust named in his honour. On their website you can read this about the man:
"A prolific director and producer, he was particularly influential through his creation of film units within the Empire Marketing Board and the Post Office, nurturing a whole generation of documentary makers, including Edgar Anstey, Sir Arthur Elton, Stuart Legg, Basil Wright, Harry Watt and Cavalcanti. Among his many achievements, John Grierson established the National Film Board of Canada during World War II, and served as UNESCO's first Director of Mass Communications and Public Information in 1947. Throughout his long career, he was in some way responsible for the production of well over 1000 films and television programmes."
Dr Grierson is credited with inventing the term "documentary" used to describe a film. John Chittock, former Chairman of the Grierson Trust, wrote:
"Grierson's influence on factual film-making was immense, underpinned by a strong social commitment. Of this he said: 'The basic force behind [documentary] was social and not æsthetic. It was a desire to make a drama out of the ordinary, to set against the prevailing drama of the extraordinary: a desire to bring the citizen's eye in from the ends of the earth to the story, his own story, of what was happening under his nose.' "
The 1952 Interview with Dr Grierson
While travelling around the British Isles in 1952, Denzil Howson attended at the Edinburgh Festival a screening of "The Brave Don't Cry", a feature documentary produced by Dr John Grierson, who was present and spoke to the audience.
Back in London two months later, Denzil wrote in his diary for 22nd October:
"A fine day, but with a little misty rain to begin with. After breakfast, I phoned Dr Grierson and made an appointment to see him at 10.15am.

"Packed up Recorder No. 1 and set off for the New Norfolk Hotel near Paddington. Recorded a very good and provocative interview with Grierson. After the interview, we went down to the bar and chatted for about an hour over a couple of beers. He is a very sincere, forthright Scot whose principles may not always be in line with those of convention, but who really believes in what he talks about. Like Chaplin, he is a champion of the underdog, a believer in man's equality and place in society irrespective of colour or creed. And above all, he is a showman. He admits it himself."
Now freshly restored from 70 year old tape here is said interview:
Listen Now: Click the play button on the audio player:
Download: Click here to download an mp3 (13.2mB).
Technical Notes
This interview was recorded on quarter inch tape, probably on a Australian Pyrox half-track tape recorder, of which Denzil Howson had two with him on his 1952 trip. These enabled making copies of edited tapes for dispatch back to radio stations in Australia. The recording had a very high level of 50Hz hum. After digitisation at 96kHz sampling rate, spectral analysis revealed the very strong hum at approx 50Hz. Amazingly there did not seem to be any higher harmonics. A single 50Hz hum filter in iZotope RX effectively removed all the hum. There were also numerous low-frequency traffic noises. These were also removed or reduced in iZotope RX. Denzil's intro and the interview were joined in Logic Pro X and end fades were added. I applied a limiter and exported both aiff and mp3 bounces.
References
https://en.wikipedia.org/wiki/John_Grierson
https://griersontrust.org/about-us/john-grierson.html